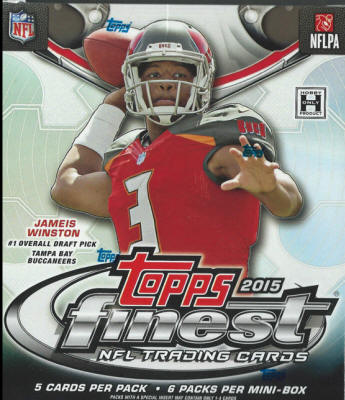 Originally slated for a September 30th, 2015 release, Finest debuted November 12th of 2015. Boxes were broken up into 2 mini-boxes, with 6 packs per mini box. Each pack contained 5 cards per pack.
The set consts of 150-card base with 90 veterans and 60 rookies. Notable rookies include Jameis Winston (depicted on box), Marcus Mariota, Amari Cooper, Stefon Diggs, Melvin Gordon, David Johnson, and Vic Beasley.
Parallel set include Refractors, Xfractors, Black (hot box only), Blue /250, Gold /150, Red /99, Diamond /60, BCA Pink /25, STS Camo /10, and Superfractors /1. Printing plates help round out parallel base options.
Finest Atomic Rookies returns for the 6th year and include Blue /299, Gold /199, Red /99, Pulsar /50, and Superfractors /1 parallels. Retro insert set '95 Finest adds a nolstalgic shot in the arm with designs from 1995 and include multiple parallels as well. QG Cuts makes its sophomore return with base, Gold /75, Red /50, Pulsar /25, and Superfractor /1.
Hits include standard favorite Jumbo Jersey Autographs, Rookie Autograph Patches, on-card signatures, and dual/triple/quad signatures.